Zhejiang Nanfeng Electric Co.,Ltd. is a company.With DC contactor as the leading factor, it integrates production, R & D, manufacturing anAn enterprise that can be integrated. Our company is specialized in producing medium load and heavy load DC contactor is suitable for electric forklifts, battery cars, tractors, and excavating. Machine, automobile air conditioner, communication power supply, uninterrupted power supply, electroplating power supply, etc. system The switch control of the integrated electronic control circuit has the advantages of small volume and large load capacity. Long service life, simple maintenance, wide application range, and well received by users. Welcome.
Nanfeng electric since its inception, has always maintained the technological innovation of sustainable innovation. Concept, with quality products and perfect service in the industry rapidly rising. The company adheres to the management concept of "people-oriented, pioneering and innovating". To raise the enterprise Employees' own quality will enhance their comprehensive competitiveness. common In the same industry, the company is the first to pass the TS16949 quality system certification, the "CCC" compulsory certification and "CQC" voluntary certification of China Quality Certification Center and the quality certification of CE, FCC, UL and TUV products.
The company pursues a market centered, technology oriented and quality based line. We supply perfect quality products at the same time. Provide a full range of after-sales service, you can contact at any time and place. All of our solutions can get Nanfeng electric all over the country. The full support of the professional service staff.
TEL: +86-577-62797256 62776658
FAX:+86-577-62797257
EMAIL:king@kingnan.com
product description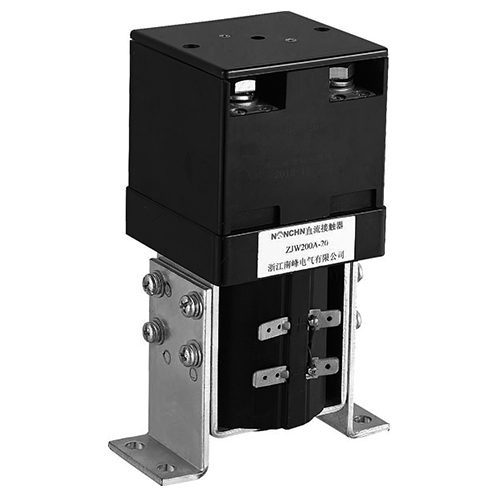 Application
The product is mainly used in the EPS power supply of the communication base station, and the contacts can also be used for AC loads of 380V, 220V and 110V. The product coil is DC powered,
Ordering Notice
For example: ZJW200-20S/12V
The DC contactor of main contact is 2NO, with micro switch, vertical installation, rated voltage not more than DC80V, current 200A, coil voltage is
Technical Parameters
| | | | |
| --- | --- | --- | --- |
| Electric Parameters |   |   |   |
| Contact type | 2 NO of bridge type | Instantaneous maxi (closing) current | 7Ie,≤1s |
| Rated voltage of contacts (DC) | DC: 80V; AC: 380V | Insulation resistance(MΩ) | ≥100 |
| Rated current of contacts (A) | DC: 200; AC: 60 | Dielectric withstand voltage | 2500V,p.f. 1min, no breakdown |
| Voltage drop on contacts(mV) | ≤80(at 100A) | Electric cycles (104) | ≥2 |
| Coil voltage specification(DC) | 6~220V | Mechanical cycles (104) | ≥30 |
| DC power consumption of coil (W) | ≤15 | Temperature rise on outgoing terminal | ≤65 |
| Pickup voltage(DC) | ≤70%Ue | Temperature rise of coil(K) | ≤85 |
| Release voltage(DC) | ≥5%Us;≤40%Us | Insulation grade of enameled wire | Class B (130°C) |
| Pickup time(ms) | ≤30 | Material of contact | AgCuO(10)/Cu |
| Release time(ms) | ≤50 | Working duty | Continuous operating duty |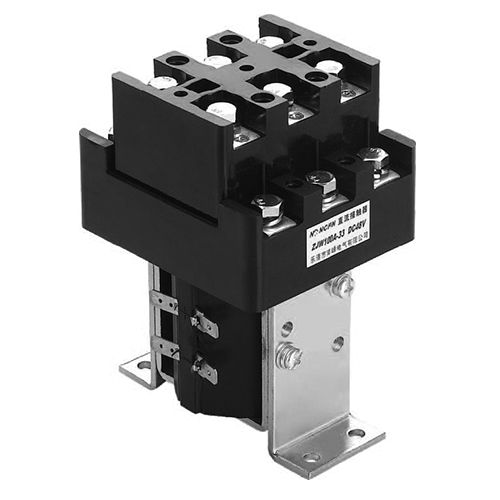 Application
The product is mainly used in the EPS power supply of the communication base station, and the contacts can also be used for AC loads of 380V, 220V and 110V. The product coil is DC powered,
Ordering Notice
For example: ZJW100-33S/12V
The DC contactor of main contact is 3NO+3NC, with micro switch, vertical installation, rated voltage not more than DC80V, current 100A, coil voltage is
Technical Parameters
| | | | |
| --- | --- | --- | --- |
| Electric Parameters |   |   |   |
| Contact type | 3 NO+3NC of bridge type | Instantaneous maxi (closing) current | 7Ie,≤1s |
| Rated voltage of contacts (DC) | DC: 80V; AC: 380V | Insulation resistance(MΩ) | ≥100 |
| Rated current of contacts (A) | DC: 100; AC: 30 | Dielectric withstand voltage | 2500V,p.f. 1min, no breakdown |
| Voltage drop on contacts(mV) | ≤80(at 100A) | Electric cycles (104) | ≥2 |
| Coil voltage specification(DC) | 6~220V | Mechanical cycles (104) | ≥30 |
| DC power consumption of coil (W) | ≤23 | Temperature rise on outgoing terminal | ≤65 |
| Pickup voltage(DC) | ≤70%Ue | Temperature rise of coil(K) | ≤85 |
| Release voltage(DC) | ≥5%Us;≤40%Us | Insulation grade of enameled wire | Class B (130°C) |
| Pickup time(ms) | ≤30 | Material of contact | AgCuO(10)/Cu |
| Release time(ms) | ≤50 | Working duty | Continuous operating duty |